On our quest to find you the top mobile payment solutions on the market today, we sought some key features:
Integration to the fleet dispatch system.
Affordability. No expensive extra hardware or lavish setup fees.
Flexibility for a range of mobile devices.
Easy to download or install.
Credit card security.
User-friendly system. A breeze to learn and use in the field.
For fleets that receive ad hoc orders or jobs throughout the day via a real-time dispatch system, such as in the courier, towing, taxi, limousine, plumbing and other field service markets, there are significant advantages of having the payment processing capability integrated with the dispatch system. We will explore such solutions in an upcoming article. This article will review stand-alone mobile payment systems.
PayAnywhere, Intuit GoPayment, and Square made the cut. These systems are affordable, accessible, and easy to use. Best of all, they're commitment-free. No contracts!
Is it time to take action? You know how your field service organization can benefit from mobile payment integration. Here are some choice solutions to make that decision even easier:

PayAnywhere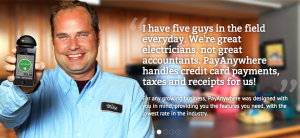 PayAnywhere.com screen shot
The Rundown: Developed by a multi-billion dollar credit card processing company, PayAnywhere is a feature-rich, intuitive mobile payment solution that is compatible with iOS, Android, and Blackberry devices.
The How-To: Download the free app. Apply for a merchant account on their website or in app. You can start processing credit card payments before your free card reader even arrives in the mail. The reader fits in the headphone jack of your device. Swipe, and send receipts via text or email. Payments are deposited into your bank account within 1-2 days.
The Costs: 2.69% per swipe, with no monthly fees or minimum swipes.
The Perks: PayAnywhere offers customer service and technical support 24/7, online and over the phone. Inventory tools and built-in reporting features make customer analytics a breeze. Tracking software nerds like us love the GeoTax feature, which automatically calculates sales tax based on GPS location!
The Final Word: PayAnywhere is an extremely flexible option, with the most device compatibility and added features across platforms (Square Register is somewhat limited to the iPad for analytic data and customization). Blackberry users will be relieved to know that there is an affordable, easy-to-use mobile solution for them!
Intuit GoPayment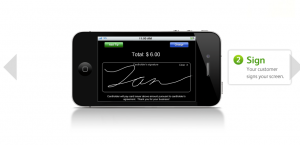 IntuitGoPayment.com screen shot
The Rundown: These guys created QuickBooks, so you can count on user-friendly account management and page navigation. The app runs on iOS and Android devices.
The How-To: Submit your application online through the Apple App store (they ask for a copy of a blank check). Once approved, receive your free reader in the mail. Sign in to the app from your smart phone, and insert the reader into the headphone jack when you're ready to make a transaction. The customer signs the screen, and you email or SMS the receipt.
The Costs: 2.7% per swiped transaction, and 3.3% per key-entered transaction. No setup feeds, monthly minimums, or commitments. Cancel at any time with no penalty.
The Perks: The system allows you to void transactions and add tips or discounts from the device. While many systems require users to call customers service to cancel a charge, Intuit GoPayment creates new sales opportunities in the field. Smooth!
The Final Word: The low per-swipe cost makes Intuit GoPayment an effective choice for field service organizations that want to offer the convenience of mobile payments to their customers, and do not expect to run hundreds of transactions per month.
Square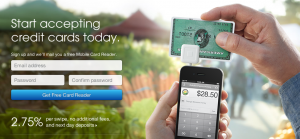 Squareup.com screen shot
The Rundown: It's been a big year for Square. Starbucks recently invested $25 million in the mobile payment platform, with plans to see coffee lovers across the continent paying for their drinks with the Pay with Square app instead of cash or card. The mobile payment app with card reader, Square Register, works with iOS and Android devices.
The How-To: Sign up for Square Register on their site or Apple App store and receive your free credit card reader in the mail. Link your bank account. The reader fits in your device's headphone jack. Fire up the app to make a transaction, and swipe away. Text or email receipts on the fly.
The Costs: 2.75% per swipe, or a $275 per month flat rate for unlimited swipes, both with no additional fees or charges.
The Perks: Next-day deposits (Intuit takes 2-4 days). If you're operating the system from an iPad, there are loads of customizable features to take advantage of, such as customer analytics, loyalty programs, sales reports, and product item libraries.
The Final Word: Here's your reason to invest in iPad technology: the back-end analytics and data features with Square Register can't be beat. If your field service employees use iPads in the field now, Square would definitely be the most effective option, helping to improve your customer service experience with its numerous data-driven features. The flat rate option is also convenient for field service companies that handle loads of credit card transactions every month.
Conclusion
With no commitments and reasonable transaction fees, these solutions offer field service organizations a stress-free entryway to the mobile payment landscape.
For now, let's here from you: which mobile payment solution looks like a great fit for your field service company? Tell us in the comments section below!