Choosing the best ELD system can be difficult, with the plethora of competing systems to choose from in the market. Making any attempt at doing your own on-line research can be a challenge as well. The vast majority of the so-called research results that come up in a web search are either pay-per-click ads or disguised pay-per-click referral marketing. Typing "best ELD system" or "best value ELD" into a search engine, as an example, produces a litany of paid advertising. In fact, you literally have to hunt to even find a true organic result on the page.
Let's see what happens when we type "best ELD system" into a popular search engine. The first 2 results are paid-per-click ads by the usual suspects, such as KeepTruckin and Samsara and the like… Paying to maintain their companies in one of one of these top search spots doesn't come cheap. If you were to click on one of these top 2 or 3 ads, it would cost that ELD provider as much as $26.00 just for that single click!
The next result in our search is a list of the top 8 ELD systems. It looks like this: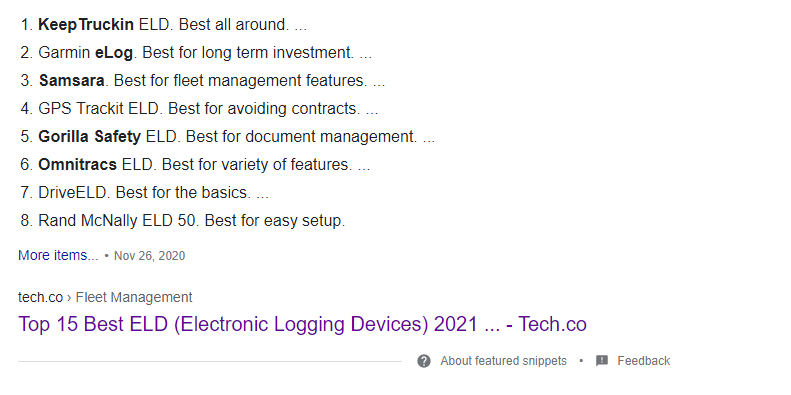 You might think this is some sort of official list, but it's not. It's called a "Featured Snippet" and it's chosen by the search company because it has content that is relevant to what you are searching for. In this case, its Tech.com, which is a referral marketing company posing as an arm's length unbiased product expert. But these types of companies are far from unbiased. They are biased by the almighty dollar -in other words, whoever pays them the most money gets placed at the top of their product rankings. This type of product comparison advertising methodology is pervasive throughout the internet. It doesn't matter what you search for these days, you'll run into these digital advertising companies that pretend to be unbiased product experts. In fact, all they are really doing is buying or earning a choice spot on the page from a search engine, then reselling it to the highest bidders. It's true that they do provide some value in displaying similarities and differences in products, but they are not going to point you as a prospective customer to a provider that is not paying them, even if that provider is one of the best choices.
The company shown above that gives us this expert opinion on ELD systems is the same one shown below, giving us their expert opinion on business phone systems. They do the same for a whole raft of other products, from dash cam systems to web design, point of sale systems, laptops, web hosting, you name it….This is simply their business model and there are many other firms just like them -we call them digital media resellers or aggregators. I guess they are experts on everything!

Directly below the 4th ad is another one from elddevices.net, another friendly trucker just wanting to share his knowledge about ELD's …to the highest bidder…

The 5th entry is another, you guessed it, another pay per click referral marketer -this one from eldcanada.ca:

As noted in their website, they will submit your needs to the top 3 recommended ELD providers. In other words, the 3 providers that align with your needs and pay the most to earn one of the top 3 spots. Another digital ad reseller disguised as providing impartial product research.

So, we've now looked through the top 5 search results.
The 6th one is another company selling advertising on ELD systems, fleet owner.ca.

In the 7th position is an ELD competitor craftily using the FMCSA's own government site URL and the keywords "Best ELD System" to market their product.

In position 8, we're back to pay-per-click advertising resellers at www.fleetlogging.com, which is connected with Expert Market, one of the larger referral pay-per-click ad resellers.

In position 9, we have ELDRatings.com, another company that will recommend your ELD product on a pay-per-referral basis.
In spot number 10, we find ELDCheck.com, another referral marketing company that gets paid to refer you to potential ELD suppliers:

Many of these sites try to get you to state your needs, then submit those needs to the ELD providers that pay the most money for referrals. Here is the form that ELDCheck.com flies.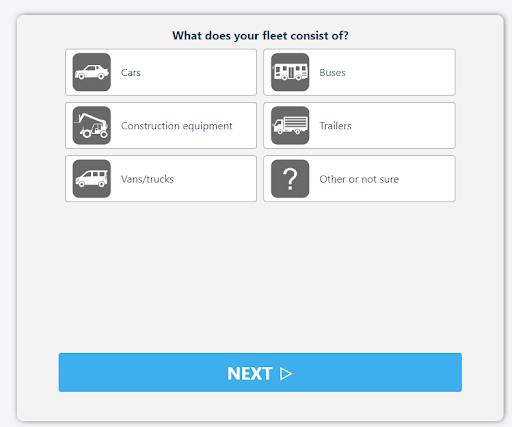 Now, here is the form that elddevices.net flies: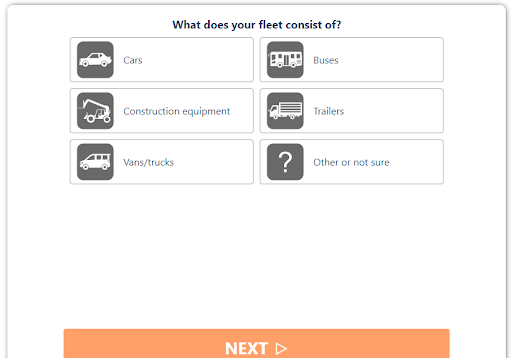 Kind of looks familiar, doesn't it? The only thing different is the color of the button.
This one is from eldcheck.com
Now, here is the form that BestELDDevices.com flies. Same style, same icons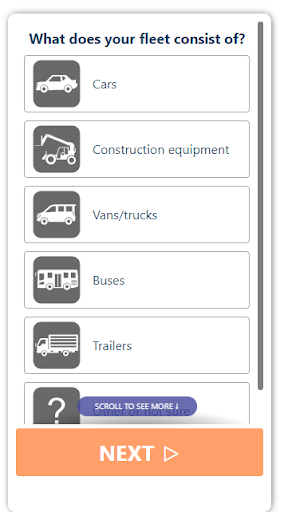 Obviously, all 3 of these sites are either the same company or they are working with the same referral marketing company.
At the bottom of the page, in spots 11, 12 and 13, we have pay-per-click ads: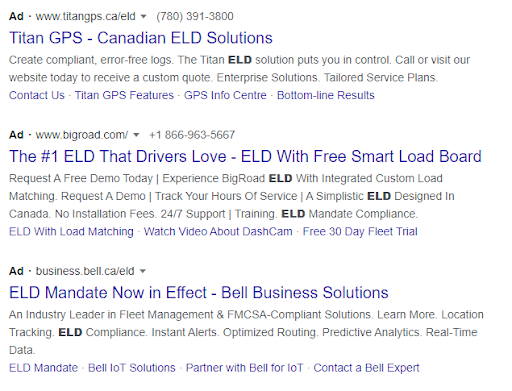 We've finally reached at the bottom of the first page of our search results, which took quite a bit of scrolling and here's what we've seen:
The first 2 spots are paid search ads
The next 3 spots are referral marketing
The next 2 spots are organic listings
The next 3 spots are referral marketing
The last 3 spots are paid search ads
This kind of frustrating result from attempting to some is common today -we all experience it on a regular basis. We try to use the convenience of the internet to do our research and we end up in largely wasting time, scrolling through pages and pages of paid and biased results.
These pay-per-click ad-referral companies actually drive up the cost of marketing for everyone because they bid up the price of advertising. It's become so pervasive that, as shown by this example, they shut out most of the organic marketing. Looking at the search results for best ELD systems, we can see that 6 out of the 8 organic search spots (these are spots that are earned, not paid) are filled by referral marketers. Each one of those spots is selling their exposure to dozens of vendors for the highest price. There is really only 1 single ELD product on the entire first search page that organically appears there.
Good luck getting a product or a small company ranked high on a search engine these days!
The larger companies that are competing in whatever product category you're searching through are always at the top of the page. They are paying huge money to maintain those key search positions because they are willing to pay for growth. They are also paying these referral marketers to maintain top spots on their recommended product lists. When you buy from these companies, you're in-effect paying for all that advertising. You're probably paying a higher price that you need to and you're typically signing a minimum term contract as well. They have to charge more for their products because they have to pay for these huge marketing costs. It's simple math.
When you buy from a market leader, is it worth it? Are you getting any extra valuable functionality or service for the extra money or more onerous terms? Maybe. They might have a feature or two that the mid-tier providers don't have. It's always a game of leapfrog with technology. Everyone's looking for differentiation and with technology being so prevalent, it often doesn't last long. But, along with that extra feature, you might find it more difficult to get personal service. We all know how that goes -when we try to call big companies. Also, if you are unhappy, they have the clout to make it very difficult to exit your agreement with them.
So, how do you choose the best ELD system? Perhaps the simplest place to start is to decide what you don't want. If you don't want to sign a long term contract, that rules out the top ELD providers right off the top, such as Samsara, BigRoad, KeepTruckin and FleetComplete. They are at the top because they spend the most on sales and marketing and to do that, they have to charge more money and maintain long term contracts with their customers. Large, high growth companies are all about their KPI's. These are key performance indicators, such as customer lifetime value, customer churn rate, cost of acquisition, etc. Those long term contracts make a big difference in what they can count as the lifetime value of you as a customer. The higher those numbers are, the easier they can raise investment capital, the faster they can grow and the higher their value becomes as a multiple of sales.
If you don't want a high cost solution, that will quickly rule out systems with expensive purpose-built devices, such as OneView, CarrierWeb and Garmin. This leaves you with BYOD (Bring Your Own Device) solution providers like GPS Commander and many others.
The reality is, that all of these ELD providers have compliant solutions. The whole market is really quite homogenized and commoditized. Ninety percent of the functionality is the same. Everyone has an app. Everyone has an ELD device that plugs into the truck. In fact, many of the best ELD systems on the market use the identical piece of hardware, just like we do. No one manufactures their own hardware anymore. This is not a hardware game. This is a residual revenue game. The hardware is just a means to an end. You plug it into the truck and it talks by Bluetooth to the app on your phone or tablet.
There are only a handful of ELD hardware devices on the market. They are all manufactured overseas. The one that we use is provided by a California company that designed it and has it manufactured in Asia. It's a bit of an educated guess, but we would estimate that over 75% or our competitors use one of the top 3 ELD hardware devices. You literally can take our ECMLink and use it with dozens of our competitors.
With most of the ELD hardware being the same, differentiating your product primarily boils down to variations in software features, usability, price and support. Let's have a quick look at each of these aspects:
ELD Features
Zero Install
The FQ Wireless ELD solution is called Switchboard ELD. This certified ELD solution comes with a hardware device called the ECMLink, which plugs directly into the ECM on any vehicle. Please specify your vehicle types upon order so the correct plug type is provided. Simply connect the unit and hide under the dash and you are good to go.
Automatic BlueTooth Wireless ELD Connection
VisTracks establishes a wireless connection to the ECMLink ELD device automatically upon start-up. Bring your own iOS or Android phone or tablet, then install the Switchboard ELD app on it. Start up the app and you're ready.
Automated Diagnostics Scanning
Upon starting up the app, Switchboard ELD runs an automatic scan of your engine data that tests the BlueTooth connection to the ECMLink, determines if there is sufficient storage space and battery life on your device, then checks engine RPM, speed, engine hours and other engine data. It notifies the driver if there are any issues with the ECM.
GPS Tracking
Switchboard is available in 3 primary versions. Switchboard ELD, Switchboard ELD + GPS and Switchboard ELD + GPS + Dashcam. We offer 3 versions because GPS tracking is not required for ELD compliance and many small fleets or owner operators don't really care about real-time GPS tracking. So, we make it simple to choose whatever you like and if you choose the plan without GPS, you can bump to the plan with GPS tracking at any time.
FMCSA rules call for all ELD systems to provide some limited GPS location information, such as logging the driver's location every 60 minutes while driving, as well as during logon and logoff and driver status changes. Our base plan Switchboard ELD does meet these requirements, using the GPS receiver that is integrated into the ECMLink Pro.
However, if you need more than just compliance and would like to know where your trucks are on a real-time basis on a map, then the Switchboard + GPS plan is the way to go.
Both VisTracks plans include the very same ECMLink hardware, which does have a 4G cellular modem and when activated, provides proper hardware-based tracking. In the base plan, we just are not activating it. So, customers can subscribe to Switchboard ELD now, then enable GPS on it at any time in the future. In that case, we simply activate that modem and data plan.
Switchboard customers on the ELD + GPS plan receive exceptional GPS tracking functionality, including Google Maps, live traffic, street view, satellite view, geo-fences, driver scoring and behavior, configurable alerts, a full range of reports and an entire year of stored tracking history. A full vehicle maintenance scheduling system is also included.
Integrated DVIR Vehicle Inspections
This is a key feature that allows the driver to create detailed vehicle pre and post trip inspections, as well as indicate whether you are loading, unloading, hooking, dropping, repairing, crossing the border or undergoing a DOT inspection. VisTracks reminds the driver when such inspections are due when changing duty status. The system also includes driver signature capture sign off.
Hours of Service Countdown
The main screen of the Switchboard ELD app is a dashboard that displays color coded individual countdown graphs of Hours Driving, Hours on Shift and Hours on Cycle.
Team Drivers
VisTracks supports dual drivers in the same vehicle.
IFTA Mileage Reports
The main cloud-based supervisor dashboardI provides access to a number of Hours of Service Reports, including fill IFTA mileage reports that include fuel purchases entered through the app.
Log Editing
Switchboard allows drivers to edit their logs, providing annotation assistance remarks to make it quick and easy to correct log mistakes. Supervisors can also make log edits from the dashboard and these edits will automatically prompt the driver to accept them upon their next app log-on.
Vehicle Diagnostics & Trouble Codes.
Switchboard + GPS includes engine trouble code reporting.
Summary
Purchasing an ELD system doesn't have to be a complex process and there is no need to sign long term contracts. We all know what it's like to end up being married to a vendor without realizing it. With many of these ELD vendors, every new driver you add starts yet another new contract. This can make it difficult and costly to get a divorce.
With GPS Commander, we're not going to ask for your next born. We'll earn your business every month. Our solution is fully compliant, highly functional and is easy to use. We're not buying our way to the top of the search rankings and this enables us to pass the savings to our customers.