---
What Makes Scout Dash Cam Systems Stand Apart?
Increased Efficiency
Scout video systems utilize the very latest video compression technology, called H.265, which effectively doubles the amount of video history that the dashcam can store. This is important when an incident comes to your attention, requiring review, that occurred several days previously. Whereas most systems will only store a few days of history, Scout can provide up to 3 weeks history. That same technology reduces data consumption by 50% when you do need to stream live video.
H.265 video compression provides twice the efficiency
Up to 512GB SD card storage
Maximizes stored history, up to 21 days
Protect your drivers & minimize your liability
Reduce live streaming data consumption by 50%
Increased Flexibility
Scout dash cam systems provide exceptional flexibility. Choose from 1, 2, or 3 camera configurations. Choose from a wide range of cameras. Then, choose your preferred storage medium and desired history duration. Do you require live video streaming and GPS tracking or will WiFi downloading be sufficient? Choose from a wide range of sensors that you may wish to monitor, such as PTO, driver ID, seatlbelt, SOS, fuel, temperature, ELD, etc. Scout MDVR systems give you flexibility:
Choose a package that meets your needs now and for the future
Choose the camera positions you need for effective coverage
Configure the type and length of storage history required
Choose from historical or real-time tracking & video streaming
Choose any external sensors you wish to monitor
Increased Functionality
Often, other dash cam providers, such as Samsara and Verizon offer cookie cutter, one size fits all solutions to simplify their product support requirements. Scout systems offer much deeper and broader functionality, allowing us to cater the system to your needs instead of ours. Not only will you get a broader historical record of vehicle activity but much better access to review that information via multiple methods.
Increased multi-camera expansion capability
Improved efficiency -increased storage & reduced airtime
Multiple access methods to review stored video
Powerful cloud-based dashboard with Google Maps
Supervisor apps, reports, notifications
Superior Value
If you combine improved functionality with greater economy, the result is superior value. Instead of roping you into costly, long-term agreements, we provide high quality dash cam systems at reasonable prices, with zero contract requirements. You can decide if you prefer stand-alone devices with no ongoing monthly cost or choose from a range of monthly services for real-time GPS tracking and/or live video streaming.
Reasonable priced, high quality hardware
Configure the devices with the capabilities you need
Choose stand-alone devices or activate them anytime
Choose USB, WiFi or live cellular video review
Add on live tracking & streaming at any time
---
VSS System (Video Safety System)
Scout video solutions are included with the VSS Safety System, which provides a wide range of powerful, yet easy to use capabilities:
Live Video Streaming
Real-time Snapshots
Real-time GPS Tracking
Historical Video Search & Replay
Configurable Evidence Uploading
Evidence Review & Sharing
Reports
The VSS Video Safety System is accessible from any web browser, as well as a Windows Program and as smartphone apps for both iOS and Android. In addition to all of the functions described below, VSS provides the ability to configure all features and settings of the dash cams over-the-air remotely. This gives supervisors extensive control and flexibility to make changes on the fly in order to optimize performance while minimizing false events.
Live Video Streaming & Location
VSS lets you view live video from one or more cameras with a single click, using highly efficient H.265 technology to save on cellular bandwidth. See real-time location, vehicle status and alarms. View as many as 16 cameras from multiple vehicles at one time. Expand any camera full screen, take snapshots, listen to live vehicle audio. VSS puts you in control.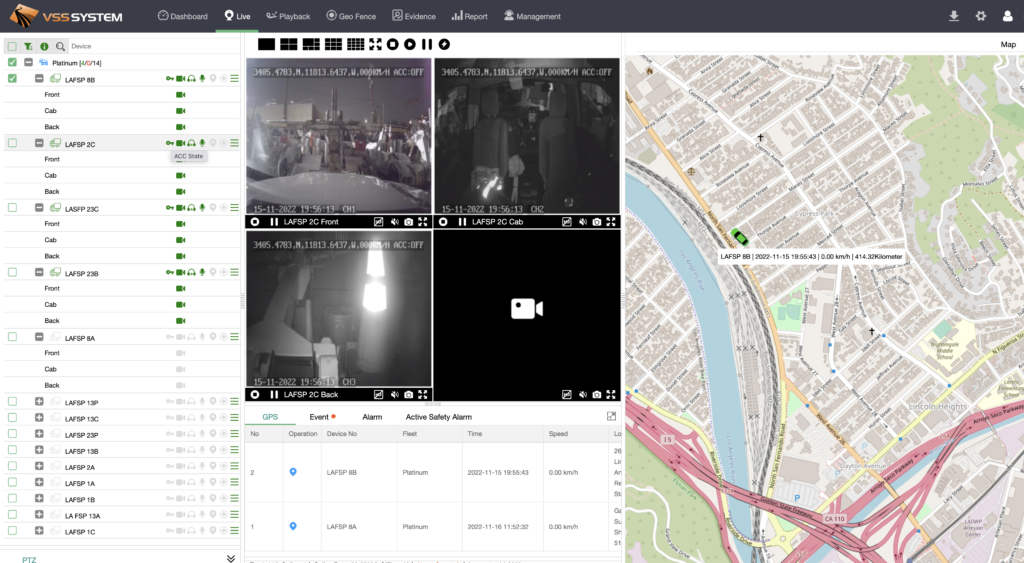 ---
Historical Video Playback
Video playback is exceptionally simple from VSS. Choose the date, time range and vehicle, then query the stored video on the vehicle to see a timeline of recorded history. Choose the cameras you'd like to see and double click. Watch the video live while you see vehicle location and status. Scan through several video segments to find the incident you're looking for, then download it with one click.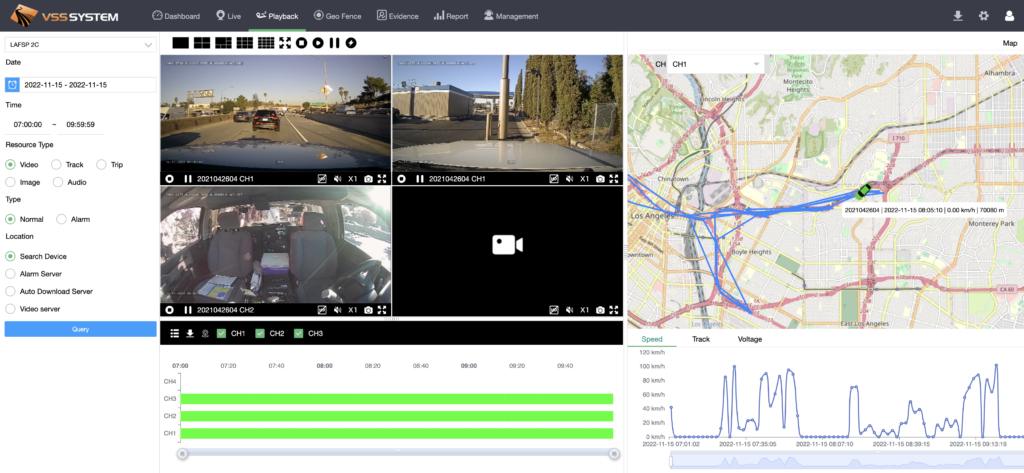 ---
Create Predefined Ai Events
VSS allows exceptional flexibility on the creation of triggered events -these are situations where the driver's exceeds specified parameters, such as following too close, falling asleep, smoking, etc. These events, when triggered can cause video, audio and location information to be uploaded automatically to the Evidence Dashboard where a supervisor can witness them as they unfolded.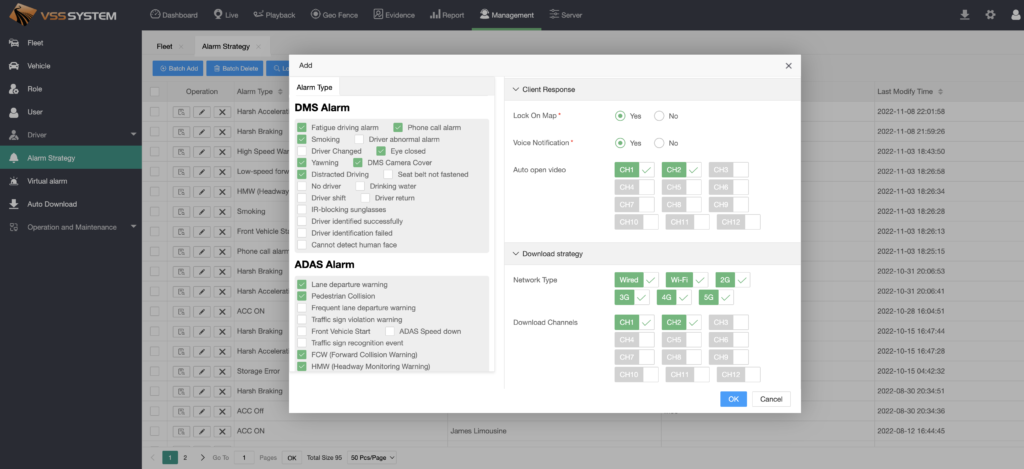 ---
Evidence Dashboard
Predefined events are uploaded automatically to the Evidence Dashboard for supervisory review. Each event can consist of multiple camera views with video history, snapshots, audio and alarm information. You can filter the evidence dashboard by vehicle, fleet or alarm type(s). Clicking on the share button lets you share via QR code or link to a third party.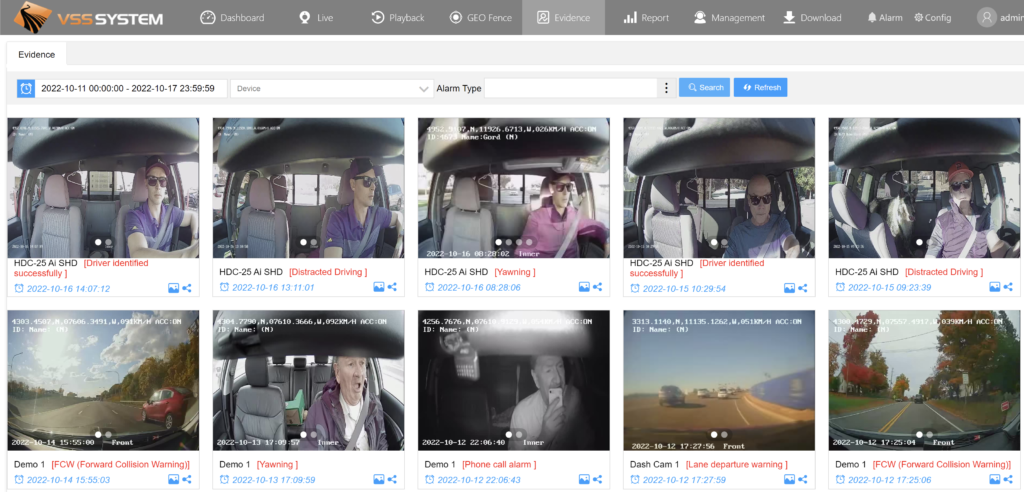 ---
Evidence Playback
Clicking on any thumbnail as show above launches that specific evidence event as shown below. Now, see the map where it occured and a summary page with the event description, driver information, etc. Clicking on one of the thumnails on the right plays the histrical event on the left, allowing you to witness as the entire event unfolded.