Bringing you best in class performance, scalability and resonating value. 
GPS Commander™ provides reliable, affordable, easy-to-use cloud-based solutions for GPS truck tracking, trailer tracking, asset tracking, and personal tracking applications. By combining best in class tracking technology with a future-forward GPS tracking portal developed with the backbone of worldwide Google maps, GPS Commander is a premier solution for the mainstream.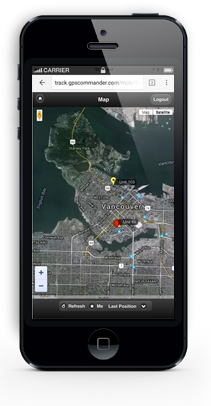 We take the risk out of the equation
All aspects of GPS Commander are structured around the premise that happy customers are long term customers. By reduce your purchasing risk as much as possible, we strive to earn your loyalty. To us, that means offering compelling products with simple terms, backed by excellent service and outstanding reliability. 
Flexible features that maximize efficiency and service
GPS Commander tracking features are easy to set up to suit your company needs, and even easier to reap the benefits from. Real time GPS tracking, automatic email or SMS alerts, boundary alerts and advanced reporting options give you the full suite of functionality to take action on your  goals. 
Identify inefficiencies within your work processes and people.
Set benchmarks for budgets, productivity and employee success.
Accelerate return on investment by pinpointing issues and implementing trackable solutions.
Gain peace of mind for protecting your assets.
GPS Commander tracking devices 
Solid, world-class manufacturing and software design allow for spectacular performance, simple installation and dependable over-the-air programmability and maintenance flexibility. GPS Commander tracking devices are customized for your software choice, whether it's Scout PT for personal GPS Tracking, Explorer AT for GPS asset tracking, Rover TT for GPS trailer tracking or Ranger CT for GPS vehicle tracking. Harnessed by top cellular data networks, these devices report location information to the GPS Commander web portal, which is easy to access from any computer with an Internet connection. 
Knowledge translates to success
With a GPS Commander online tracking solution, you are equipped with the knowledge to make decisions that could greatly improve your business. Track your people and resources in real-time, and discover the ROI you deserve.